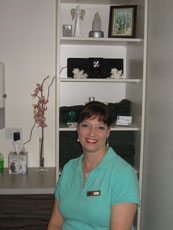 I am outgoing and am at my happiest when interacting with people in a positive way. It has been my lifelong ambition to be of service to others in an independent, pro-active, caring yet nurturing manner and I have found that Massage Therapy is the perfect way to do this.
My experience includes working with professional swimmers and other sports persons such as diver's, cricketer's, cyclist's and triathlon participants.
Other experience includes corporate massage as well as palliative and primary care. Some very rewarding work included assisting patients with multiple sclerosis, fibromyalgia, oedema and learning difficulties that were related to problems with body strength, fine and gross motor skills.
My massage treatments are client focused and I use a variety of techniques that best suit the clients' requirements. These techniques include Relaxation, Swedish, Trigger Point Therapy, Sports Massage Techniques, Soft Tissue Manipulation incorporating Neuromuscular and Muscle Energy Techniques, Indian Head Massage, Manual Lymphatic Drainage, Deep Tissue Massage, Cross Fibre Mobilisation Techniques, as well as, Acupoint Pressure.