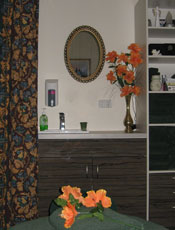 The treatment room is welcoming and comfortable.
It has a unique peaceful energy about it.
The music played is calming and soothing.
The Body Contour, with Midlift, Powerlift Massage table ensures maximum comfort for all persons regardless of height.
Extra cushions, towels and blankets, as required, ensure  comfort during treatment.
Air-conditioned during the summer months to ensure it remains cool.
A fan heater in winter keeps the room cosy and warm.